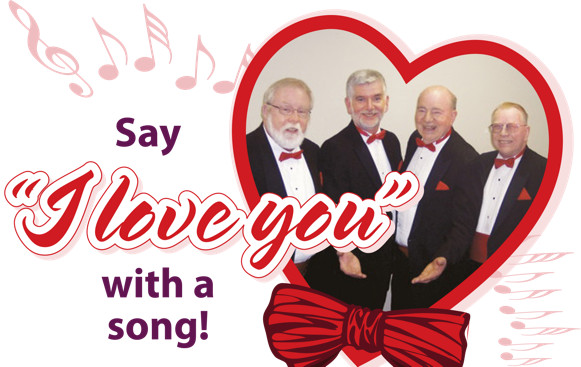 Forget candy. Forget flowers. For Valentine's Day 2015, give the love of your life something really special: a Singing Valentine. On Friday, February 13, and Saturday, February 14, The Morris Music Men, Morris County's premiere barbershop harmony chorus, will send quartets to sing love songs at virtually any location in and around Morris county. For only $60, a quartet of men decked out in tuxedos will serenade your sweetheart, office staffer or client at work, at home, at a restaurant, etc. The package includes a beautiful long-stemmed red rose and a special Valentine's Day card. Singing Valentine reservations and further information are available by calling 973-625-2842 or emailing svdavid.sipple@gmail.com. The deadline for ordering is Wednesday, February 11.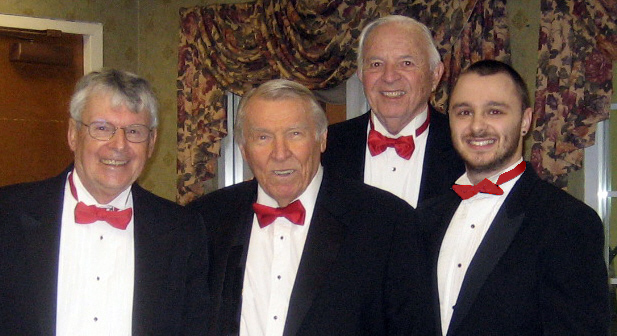 Welcome!
The Morris Music Men have been treating Northern New Jersey audiences to the uniquely American form of vocal music known as barbershop harmony since the late 1950s. We're a chapter of the 26,000-member Barbershop Harmony Society, the world's largest men's a cappella singing society.
Our director is Nate Barrrett, an up-and-comer who inspires us to reach new heights with each performance. We can be heard throughout the year, singing for civic and charitable organizations, private groups, churches, community events, and fundraisers.
The Morris Music MenRehearsals: Tuesdays 7:30 pm
Gloria Dei Church, 300 Shunpike Road, Chatham, NJ 07928


Do you sing? Do you want to be part of a special group of gentlemen? Find out how to Join Us!
We love to entertain by putting on our own musical events each year for the community, our friends, and families. We deliver "Singing Valentines" on Valentines Day, and in an effort to stay committed to singing and performing at the highest level possible, we compete each year in a regional contest.
Please contact us to sing at your next special event!
About The

Morris Music Men




---

Ab

out Barbershop

Find out more about this amazing, original artform and our organization.

Our Quartets

The Morris Music Men have a number of great quartets. Check them out!




Hear Us!

Hear a few of our tracks to get an idea of what close harmony is all about!