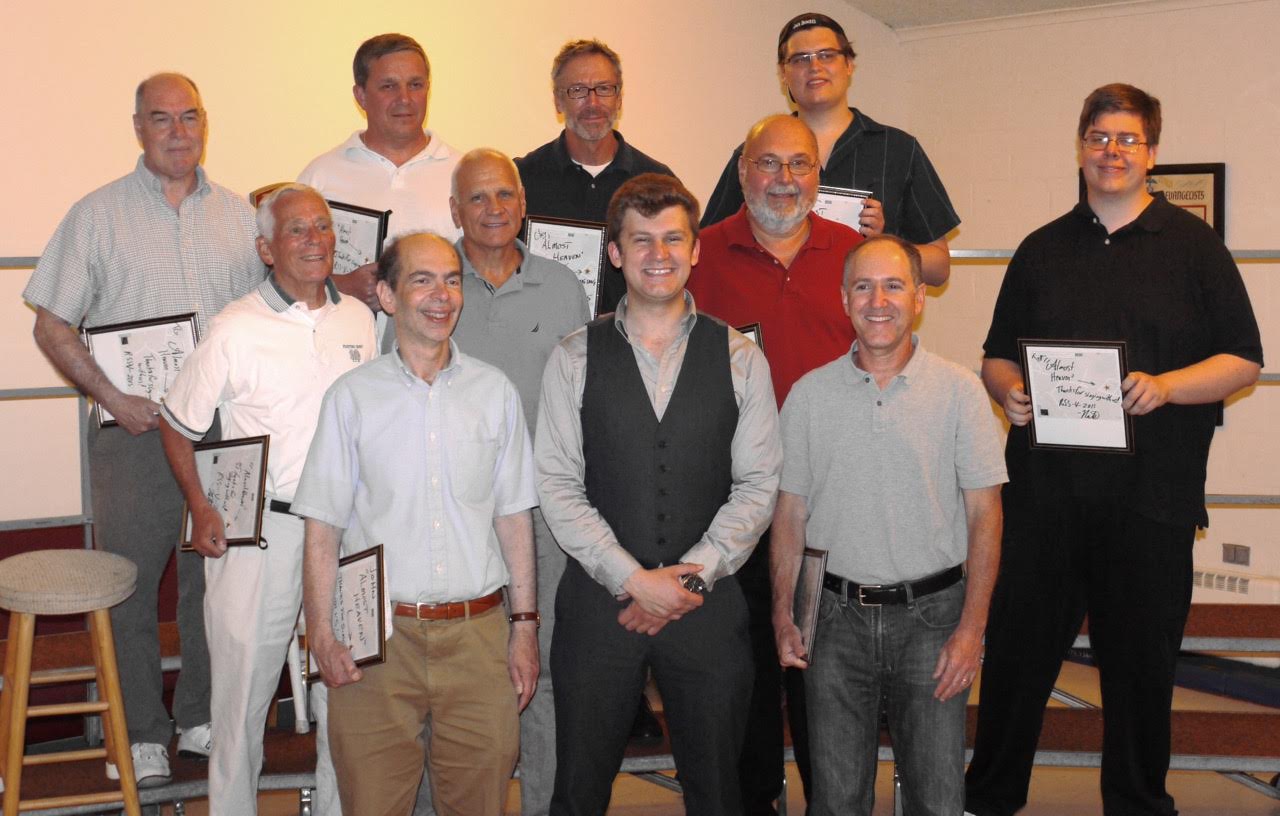 Some graduations are celebrated with the ringing of bells. This one was celebrated with the ringing of chords.
On the evening of July 21, a group of ten talented men officially graduated from a six-week course of singing lessons called READY, SET, SING! The course, offered free by the Morris Music Men and taught by our director, Nate Barrett, is open to men of all ages and levels of singing experience. Participants learn the basics of good vocal production and an appreciation of 4-part a cappella harmony.
To show off their newly developed skills to an audience of nearly 60 family members and friends, they joined the Morris Music Men on the risers for a great barbershop rendition of John Denver's "Take Me Home Country Roads."
"They did a terrific job," said Barrett. "And they had so much fun in the process that just about all of them have expressed an interest in joining the Morris Music Men."
For information about our next six-week READY, SET, SING! session, call 848-459-6783 or email yodes89@gmail.com
Welcome!
The Morris Music Men have been treating Northern New Jersey audiences to the uniquely American form of vocal music known as barbershop harmony since the late 1950s. We're a chapter of the 26,000-member Barbershop Harmony Society, the world's largest men's a cappella singing society.
Our director is Nate Barrrett, an up-and-comer who inspires us to reach new heights with each performance. We can be heard throughout the year, singing for civic and charitable organizations, private groups, churches, community events, and fundraisers.
The Morris Music MenRehearsals: Tuesdays 7:30 pm
Gloria Dei Church, 300 Shunpike Road, Chatham, NJ 07928


Do you sing? Do you want to be part of a special group of gentlemen? Find out how to Join Us!
We love to entertain by putting on our own musical events each year for the community, our friends, and families. We deliver "Singing Valentines" on Valentines Day, and in an effort to stay committed to singing and performing at the highest level possible, we compete each year in a regional contest.
Please contact us to sing at your next special event!
About The

Morris Music Men




---

Ab

out Barbershop

Find out more about this amazing, original artform and our organization.

Our Quartets

The Morris Music Men have a number of great quartets. Check them out!




Hear Us!

Hear a few of our tracks to get an idea of what close harmony is all about!